Which Teamspeak client would I recommend?
Clearly the >>> Teamspeak-5 Client <<<
Why?
Because this is the future of Teamspeak
Because our Teamspeak server will also (as soon as available) be a TS-5 server!
you can post videos and watch them directly in the client (see picture)
you can post smileys (see picture)
you can post GIFs (see picture)
the TS-5 client is being further developed, the TS-3 client is NOT (only regular updates such as security/technology)
Visually nicer… but that's a matter of taste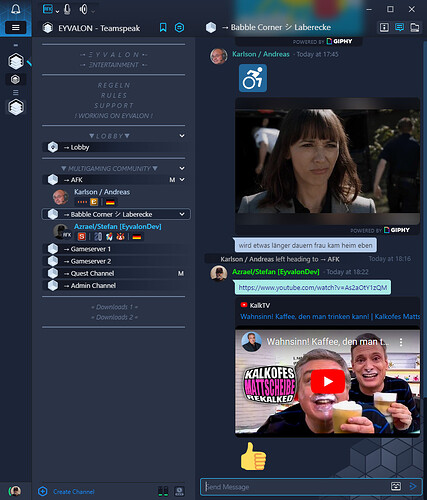 You have to register on myteamspeak.com,
but you have to do that with Discord too.
Only Teamspeak offers good data protection and more security than Discord

So… Switch to the Teamspeak 5 client!!!